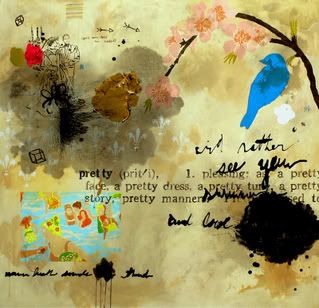 Increasingly, arts organisations and cultural institutions in Manchester are getting all mixed up with social media. It's not just about reaching younger and more tech-savvy audiences - though it will certainly help them do that - but taking part in the wider cultural conversation that is taking place in Manchester.
The Bolton Octagon has an excellent
blog
which provides behind-the-scenes peeks at their productions. Because I follow
Bury Met on Twitter
, I've been reminded about gigs I would have otherwise missed.
The Library Theatre is on Twitter.
So is
Contact.
,
Urbis
and The Oldham Coliseum, which also uses
a link sharing account on delicious
to track coverage of their current production.
And that's just the heavy hitters. Really, one of the best things about social media is how it allows small underfunded collectives and artist groups to get the word out about their work without paying through the nose for PR. I've written about this phenomena in the Manc literature scene loads, but for a glimpse of similar things happening on the visual art side check out
Exocet
and
Interval
.
Sure, social media is another channel on which to promote your stuff, but savvy arts orgs understand that it's a tool that works both ways. It can also allow punters to participate in their work, from deciding what band should play a festival to getting involved in creating artistic content online. So the relationship becomes less one-sided and (hopefully) engenders a broader sense of ownership around these institutions.
Cornerhouse
has embraced an interesting new "open source" approach which aims to engage the public more in programming, and abandon the traditional model of a head curator/programmer determining cultural output. The ensuing staff reshuffle which saw longtime film honcho Linda Pariser and Visual Art Director Kathy Rae Huffman depart caused a bit of a kerfuffle on the Manc arts scene.
Cornerhouse's new world order is laid out for your persual in
The Art of With
- an essay, seminar and a conversation that will potentially shape what the institution does in the future. The C-house commissioned
We-Think author Charles Leadbeater
to write an essay on how arts orgs can successfully incorporate this approach. And it's all just as collaborative as you'd expect: you can comment on the essay
at the wiki here
, and get involved in the seminar June 24.
And in July, Manchester Museums Consortium are launching a Wordpress-based online magazine to promote their activities and the city as a cultural destination. I'll be helping MMC involve the city's cultural bloggers in creating content for the site, so if you're doing reviews or criticism on your blog, drop me a line.